V853 Dev Board
In order to facilitate customers and developers to conduct pre-research and development based on V853, Allwinner provides a official V853 Dev Board.
Dev Board Introduce
The development board integrates Allwinner V853 main control, 512M DDR, 8G eMMC, WiFi/BT, Ethernet, SD card, USB, dual microphone, dual camera interface, IT-CUT, screen interface, battery interface, buttons, power management module , battery interface, RTC battery, speaker interface, GPS interface, G-SENSOR interface, GPS interface, JTAG, I2S, UART and other modules.
And it is equipped with a 7-inch MIPI-LCD screen and a dual camera module.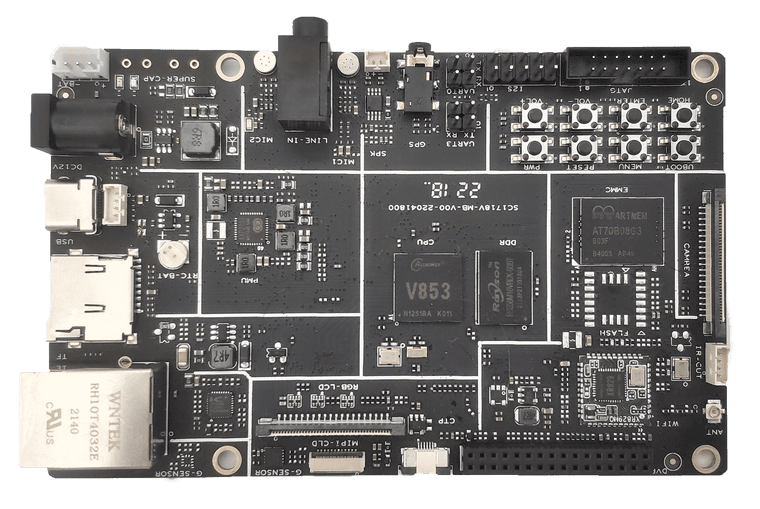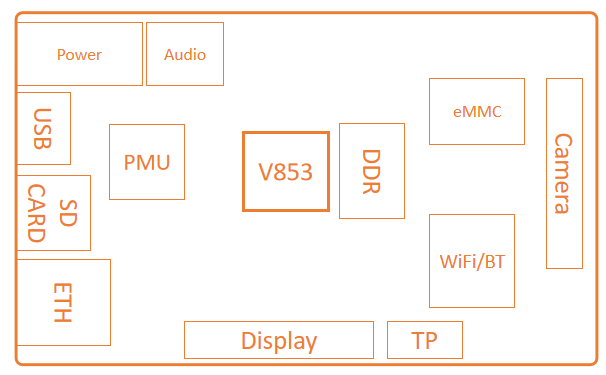 Specifications
Main control: Allwinner V853 (Arm A7 1GHz + RISC-V E907 600MHz + 1T NPU)
DDR: 512MB DDR3 (Model: Crystal Memory RS256M16VRDX-93BT)
Memory: 8GB eMMC (Model: AT70B08G3)
Wireless network: 2.4G WiFi/BT (Model: Allwinner XR829 module)
Wired network: 100Mbps Ethernet (Model: IP101GR)
Camera: 1080P binocular camera (Model: GC2063 *2)
Screen: 7 inch LCD screen
Microphone: Analog microphone *2
Keys: 8 (Uboot key * 1, Power key * 1, Reset key * 1 GPADC function key * 5)
Lights: Green LED * 1, Red LED * 1, Blue LED * 1
DEBUG: Support uart serial port debugging, support ADB USB debugging
USB: Type-C USB * 1, supports both power supply and data transmission
PMU: Allwinner AXP2101
Body size: length 118mm*width 75mm
PCB layer: 4-layer board
For the schematic diagram of the development board, see: Allwinner Online-Data Download-V853-V853 Development Board Schematic
System Configuration
Officially supports Tina Linux system, based on Linux 4.9 kernel & uboot-2018.
For the introduction of Tina Linux system, see:
Introduction to Tina Linux System
V853 Tina SDK source code download, see: Source code download
Buy